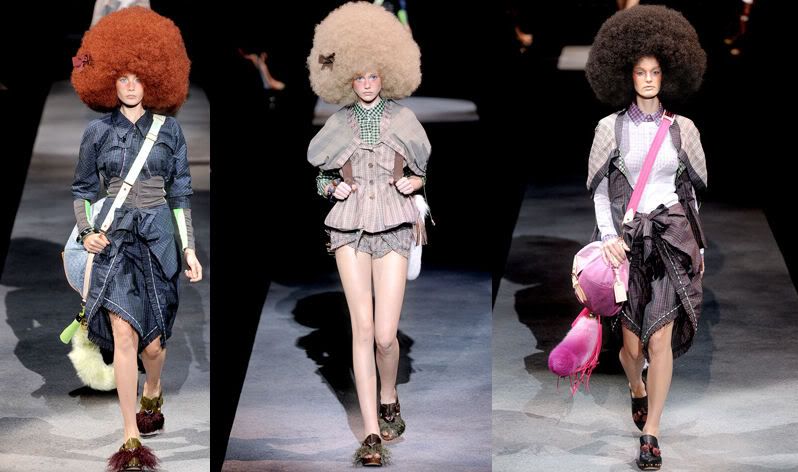 Last week, the models on the runway for the Spring 2010 Louis Vuitton collection stomped down the catwalk with larger-than-life Afros (power to the people!). The presentation was filled with lots of "travelers" pieces. All the layering and different patterns are well suited for any adventurous and on-the-go girl! Anyway, I understand the collection, but what I don't get is the Afros. Whenever I look at the photos, I can't help but silently wave to my
sort of
nappy rooted sistahs above (HEYY!).
This got me thinking about other things...
I would never wear my hair au naturel, meaning in a fro. I don't do Afros. With the exception of my younger years, I never have and I never will. I'm on that "creamy crack" as one girl said in Chris Rock's new movie
Good Hair
. There are girls who look really nice in fros, but I'm not one of them. That aside, I can't wait to see the movie
Good Hair
. It uncovers what is considered "good hair" in the black community and explores the ins and outs of the black hair business. Back in middle and high school, I would constantly get braided weave extensions every single summer. I was convinced my hair was growing because of this; until, my sophomore year of high school. When I removed the extensions, I lost about 30% of my hair. I waved bye bye to my growing "good hair". And ever since then, I vowed to never ever get a weave. I haven't. I love my real hair. Sure it may not have that, for the lack of a better term, white-girl-hair bounce, but it's my hair and it's good hair.
xoxo