Yesterday marked the day of my very first purchase of a Michael Kors shoe.

I took a "me day" yesterday because it was the last day of my finals and I needed to relax and focus on moi. I took a trip to the mall to do some Christmas shopping and spend the remaining amount of money I had on a Macy's gift card.

After a couple hours of dealing with incoherent Sale Associates, I didn't buy any Christmas gifts. Instead, I spotted a pair of Michael Kors heels on the clearance rack, but my size was not in stock--I'm a 5 foot 7 gal with a size 10-11 foot--I almost cried because I wanted those shoes so bad. Someone once told me that a Michael Kors shoe will probably be the most comfortably expensive shoe one could ever purchase. I then proceeded to look around for the Michael Kors section, picked up two boots and calculated if I could afford them. With the help of a recent paycheck, I could!

In the end, I purchased the boots below. I'm astonished at how comfortable these treasurers are. They are a wonderful combination of a snow and chic boot.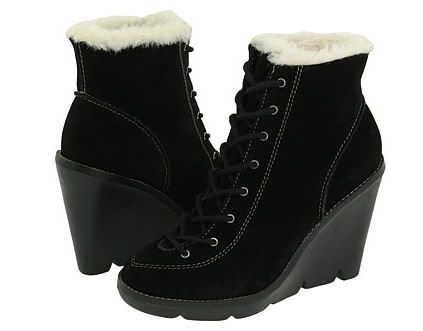 Berkshire Wedge


Michael Kors
Just two words for all of you: Hello lover!
xoxo