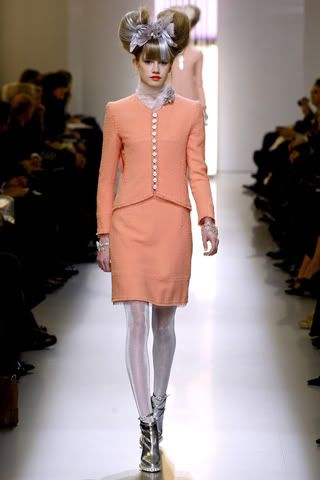 Chanel Spring 2010 Couture
Photo courtesy: Style.com
Pictures from the Spring 2010 Couture presentations in Paris are filing in and it could not be at a worse time. I'm trying to exhibit some self-control and focus way more on my school work this semester. I
am
a student after all and grades do matter. I will say that I am in love with the
Chanel Spring 2010 Couture collection
because it's a lovely twist on the demur style of Chanel. I secretly see myself as a future Park Avenue Princess (aka Charlotte York from SATC) and if I had to spice up my conservative style a bit, I would stomp down the New York City concrete in one of Lagerfeld's electric creations. WOO!
Anyway, the Spring semester officially started for me yesterday, but technically it started on Monday. You see, I only have classes on Tuesdays and Thursdays to make room for my other weekly activities. That's five classes back-to-back from 8am to 3:45pm twice a week--kind of like high school, except these classes are one-hour longer.

As I write this post, I'm in between figuring out how to buy all my books without paying an arm and a leg, configuring plans for the several clubs I'm president of, watching Sex and The City on TV and flipping through the Chanel Spring 2010 Couture collection. I think I'm a chronic multi-tasker. Would you say this is a good or bad thing? I think it's a serious problem of mine! Actually, I wouldn't call it a problem. It's a gift. If I do more at once, I feel that I get everything done in a timely manner. What do you think? Am I being delusional here?

Needless to say, I feel like I hit the nail on the head with my professor selection this semester. I finally have professors that do not make me want to pound my head on the classroom desk and wonder why I am at school. I mean, you've got to respect a professor who effectively mentions Lady Gaga in their lecture right?

Right.
xoxo