It wasn't until the 2nd season of
Desperate Housewives
that I began to tune in. I refused to watch the show the first season because it was all people could talk about:
"DID YOU SEE WHAT HAPPENED LAST NIGHT ON DESPERATE HOUSEWIVES?!"
"NO! I don't watch that stupid show!"
Who knew that I would eventually become an avid follower of the show?! However, during the 2nd season, many began to stop watching! Apparently, the 1st season was more eventful than the 2nd. Oh well, all I know is that I was hooked after the 2nd season premiere.

If you're living in the U.S, then you know that Desperate Housewives premieres tonight! The writer's strike is long and done with and our favorite shows are making their debuts! I'm so excited to see what's in store for Desperate Housewives and Ugly Betty! If I didn't love magazines so much, I would try to work in TV. I love TV; I also love love commercials! I don't change the channel, I sit and watch the commercials (most of the time).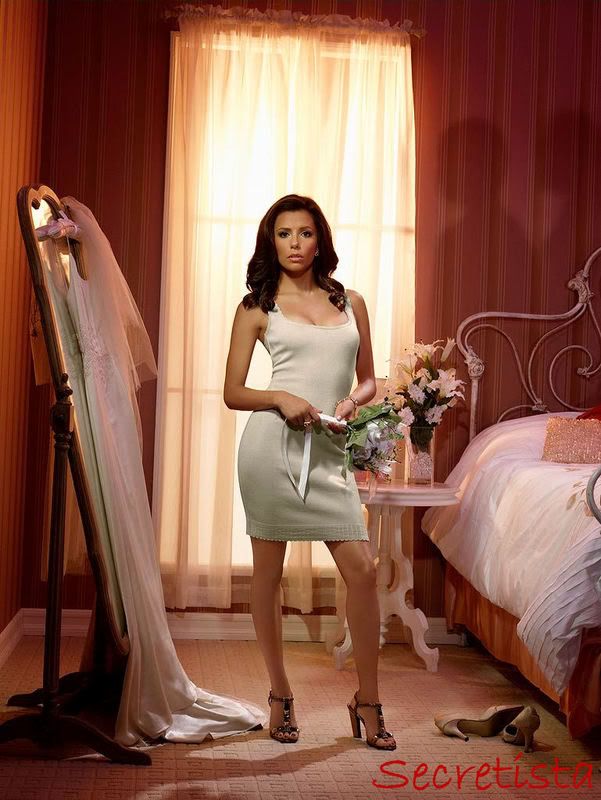 ISN'T SHE STUNNING?!
My favorite character is
Gabrielle Solis
aka
Eva Longoria Parker
. Gabrielle is a self-centered, kind at heart, stunningly beautiful, high-fashion loving type of gal. I, like Gabrielle, find myself gearing towards the more expensive clothing items; this is something I need to take care of because I can't afford expensive clothing on a student budget! I find myself forgetting to look at the price tags! I hope I don't dig myself deeper into a debt hole that has already started from my student loans. But, back to Gabrielle. She's got the goods and the style. It amazes me how Gabrielle can put on a sleazy outfit and not seem like well, a slut. I think it might have to do with Eva's petite stature. Sometimes, when you've got less curvaciousness (
is that a word
?
) going on, it's easier to wear next-to-nothing and make it seem like you're fully clothed.
When the ladies of
Desperate Housewives
last left us, a Tornado had hit, a few lives were taken, and new friendships built. What will happen next is anybody's guess!
Desperate Housewives
:
Tonight @ 9PM!
---
Secretista