Seriously, I
LOVE
my
internship
! For a while I was worried about how I would get credit for it
. I knew I could make it happen, but I just knew it would take
A LOT
of work, and that it would cost
A LOT
of money to receive
ONE
credit ($800 + to be exact). So when the Senior Editor returned today from her mini-vaca, I talked to her and told her about my predicament. It turns out that I
DON'T
have to get credit for my
internship
! Instead, I'll be getting paid--woo! I told her that I would still work for free, but she insisted that I get paid! She said,
"You'll have a lot of time to work for free in this industry, and I don't want you to start now."
Yea, she's pretty awesome.
Moving on, two days ago
Couture Salope
did a post on
Breaking Fashion Rules
. The Fashion rule I broke today wasn't on her list, but I consider it a rule and/or a faux pas. I was in a rush this morning to catch my train into the city, and I didn't put on a strapless bra. Thus, my cute checkered tank was ruined by the unsightly view of my bra strap.
So this got me thinking as to if it is it really taboo to have your bra strap showing through your tank and/or tube top. Is it?
Oh well, I don't care if I committed a faux pas because I'm as happy as a bird!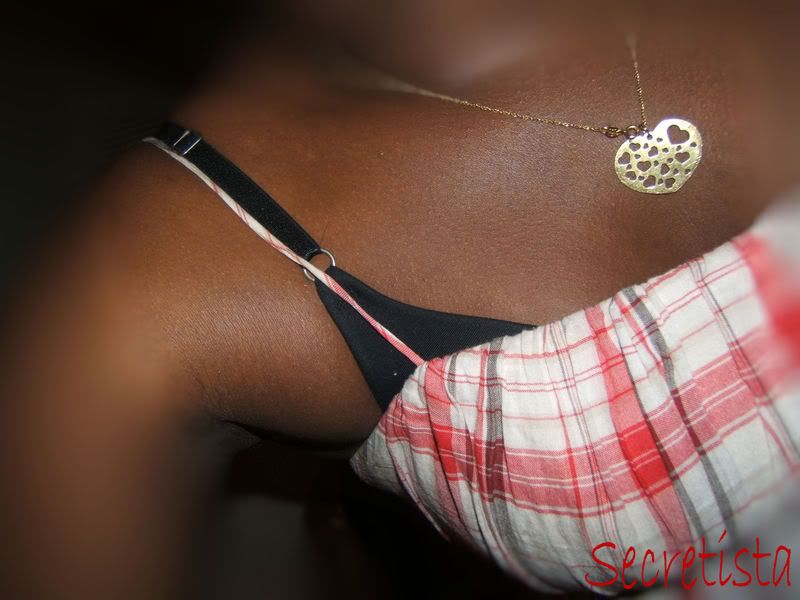 ---
Secretista