I haven't done an
outfit post
in a while. I started this blog posting my outfits because I was searching for my style, my
fashion
voice. Over the past year, I grew-up. I became "one" with the person I am. As corny as that may sound, what I mean is that I'm past the stage in my life (at least I hope so) where I am uncomfortable with myself. I am confident in the person I have become, and I am confident in the
fashion
choices I make. So long are the days where I let my insecurities get the best of me. Well, who am I kidding? Our insecurities will always come up and bite us every now and then; but for now, mine are to the minimum. My point is, I just never see the point in posting my outfits anymore. I'm not sure if they serve as inspiration or as an example of me being narcissistic because I enjoy taking pictures of myself--haha! Whatever the purpose my
outfit posts
serve as, I may never know. But for now, I'm just sharing my current style.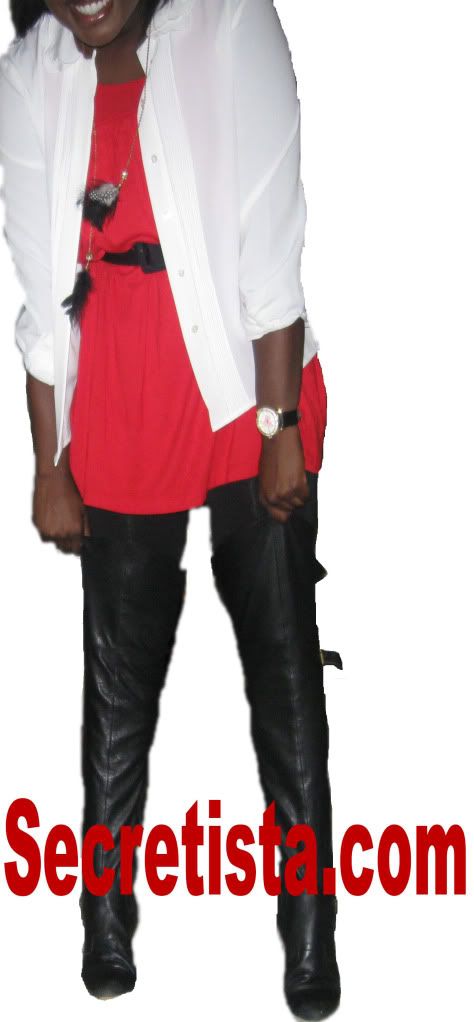 Mom's chiffon button-down blouse.
Old Navy tunic dress. H&M belt. H&M legging pants.
ALDO over-the-knee boots. Michelle Roy necklace. Dooney & Bourke watch.
I owe this outfit to my current
internship
. Working in a place where majority of the people look like they stepped out of the pages from the very same magazine they work for is pretty sweet
and
inspiring.
---
Secretista