Check me out! I'm a firm believer in that there's no harm in shameless self-promotion. Uh-huh. That's right. I said it! And when the editor at
Style Sample Magazine
(a new webzine) contacted me, I was more than pleased to add my two cents to their third issue. I'm featured in the "Blogs To Watch" section. I think the concept of this magazine is absolutely great! With Fashion Bloggers taking the fashion industry by storm, a certain amount of attention is well-deserved. And a magazine specifically devoted to us doesn't hurt. I remember when there were just a handful of fashion blogs. I've watched fashion blogging blow-up into this new fad. It makes me so happy! =]
One of the questions they asked me:
"Who do you hope to reach?"
My answer:
"When I write, I write for the person who needs inspiration. A good portion of my blog has me including my readers on my journey into the magazine industry, adulthood and college. And being that I'm a firm believer in hard work, dedication and positivity, a lot of my posts portray just that. My life journies are always done with a smile."
Read the rest by clicking the image below or heading to their website at
StyleSampleMag.com
.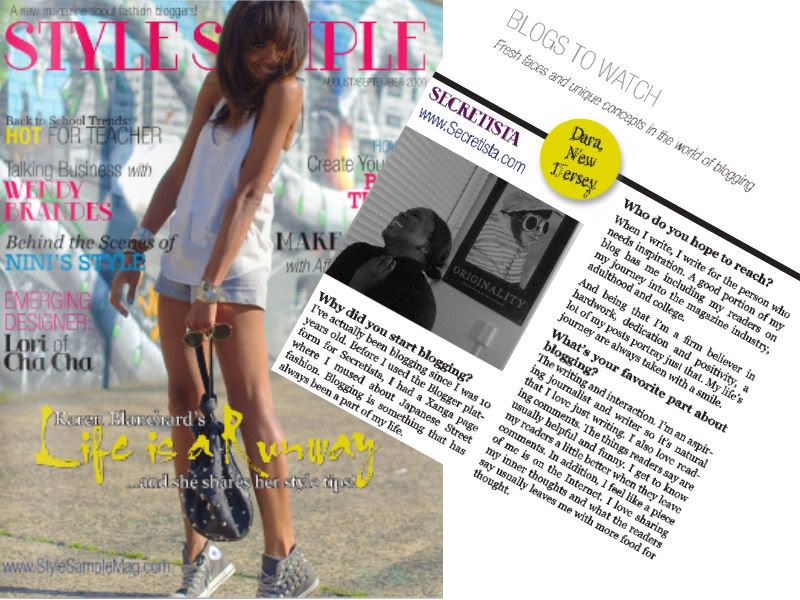 xoxo