GIVEAWAY ENDED 11.13.09 -- WINNER WILL BE ANNOUNCED BY MONDAY 11.16.09

The holidays are around the corner! As a kid, the holiday season was my favorite time of year. Why? Well, I'm the youngest and the only girl in my family, so I get whatever I want. Spoiled? Yup. Rotten? No. Nowadays, I don't ask for much or anything really. But, I love a good present!
Chelsea of
PinkRockCandy
, Melissa of
Fashion Trend Guide
, Jamee of
Confessions of a Marc Addict
, Christina of
Candybox
and
yours truly
are collaborating to bring you a 5-week Holiday Gift Guide and giveaway for that unique gal in your life. We're kicking off the Holiday Gift Guide with a giveaway for the
Classicist
!
The
Classicist
enjoys clean lines and classic shapes. Elegant is her middle name. Not sure of who she is? Think Holly Golightly or Victoria Beckham. One lucky person will be able to win the classic yet edgy
Juma
jacket or the simple and pretty Rachel Leigh earrings from
Chickdowntown
, a total value of more than $300!
To enter and win, leave a comment (

link located near the post title

) with your e-mail address and what you think is the ultimate classic item. On

Friday November 13, 2009

, one of you will be picked at random!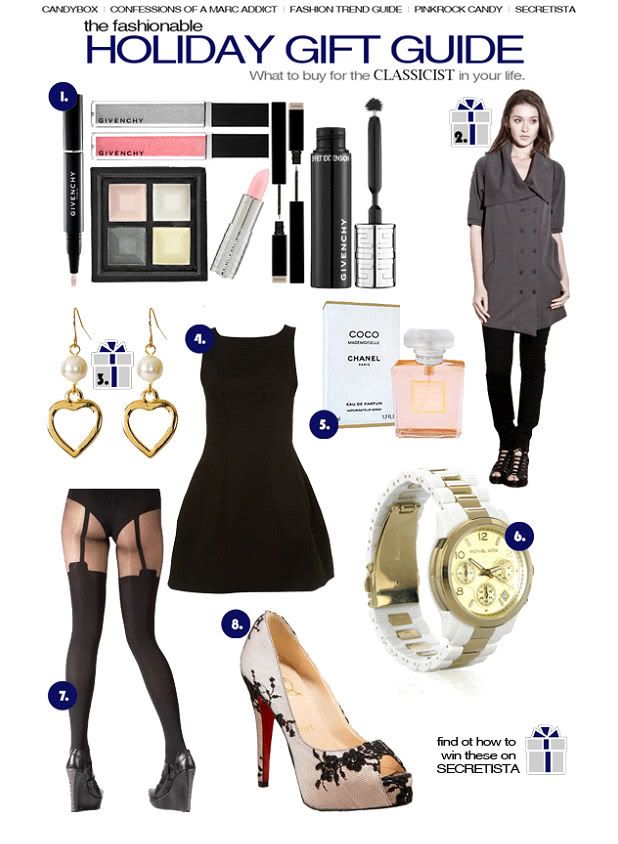 1.

Givenchy Holiday Makeup Collection – Sephora, $242 •

2.

'Baggy Sleeved Double Breasted Jacket' – Juma, $250 •

3.

Rachel Leigh 'Gold Heart Pearl Earrings' – Chickdowntown, $69

•

4.

'Egg Shift Dress' – Topshop, $100 •

5.

Coco Mademoiselle – Chanel, $80-$115 •

6.

Micheal Kors 'Chronograph' watch – Net-A-Porter.com, $250 •

7.

Henry Holland for PP House 'Mock Stocking' tights – MyTights.com, $15 •

8.

Christian Louboutin 'Bouquet Platform' – Neiman Marcus, $1,025



xoxo & Good luck!