We've made it to the last week of the
Holiday Gift Guide & Giveaway
! This week, a lucky winner will get to win a
Kaur Collection
Sudharshana Bangle and a
Laura Dahl
Chelsea Top because we're devoting this gift guide & giveaway to "The Rocker," whose sense of style is self-explanatory!
Head over to Melissa's blog to enter and win!
My ultimate gift pick for a girl who likes to rock-out is a simple "rocker" tee. I've chosen this one from
Kill Brand
. Many of you know I'm not a huge fan of tees, but I do enjoy a good "rocker" tee every now and then. Check it out: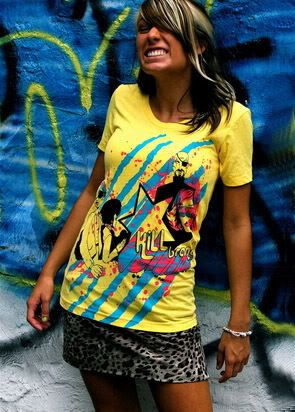 Kill Brand
I Love the 80's Women's Tee
$5.00!!

Head over to the following sites for more tips on what to buy the
Rocker
gal in your life:
Christina of
Candybox
Chelsea of
PinkRockCandy
Jamee of
Confessions of a Marc Addict
Melissa of
Fashion Trend Guide
xoxo & good luck!