Today's weather was unpredictable; it was warm, then it was cold. Oh, then it was warm. And now, I'm cold! I stayed up until 8:30 this morning writing a 6-7 paged paper for my
Japanese Politics
class (procrastination is a sick disease kiddies). My teacher is crazy hard, he knows it, and he's proud of it. So many kids have dropped out of his class, but I refuse to! I've got my yearbook buddy in the class with me, and she has taken a course with him before (she's also super smart), and hopefully I'll get through this class with at least a B-.
So yea, I was up until 8:30 this morning and once I finished my paper, I told myself oh, let me take a mini nap before I go to the mall to exchange the make-up I bought. Well,
30 minutes turned into 4 hours
, and at 12 PM I leaped out of my bed and into the shower, quickly dressed myself, threw on some heels, and ran to my car--I was not going to go my day without my bare mineral make-up (sorry if that sounded superficial). By the time I got back to my dorm, it was time for me to go to class. And because of my mini nap fiasco, I missed work. :( Ugh, looks like I'm going to have to find time to do some extra hours.
No outfit pictures today, but I was told that I
looked like a Harajuku Girl. I wore my red & white-checkered tunic with a black turtle neck, black tights, black shorts, and black flats. How I looked like a Harajuku Girl, I'm
not sure. Well, I'm lazy and I've got a
Chinese
exam tomorrow. I've been half-assing my way through the lesson and I didn't do well on the mini character quizzes, so I have to study extra hard to keep my somewhat A average. I think I'll go to bed now and wake up early; I hope that works out because I can't keep my eyes open...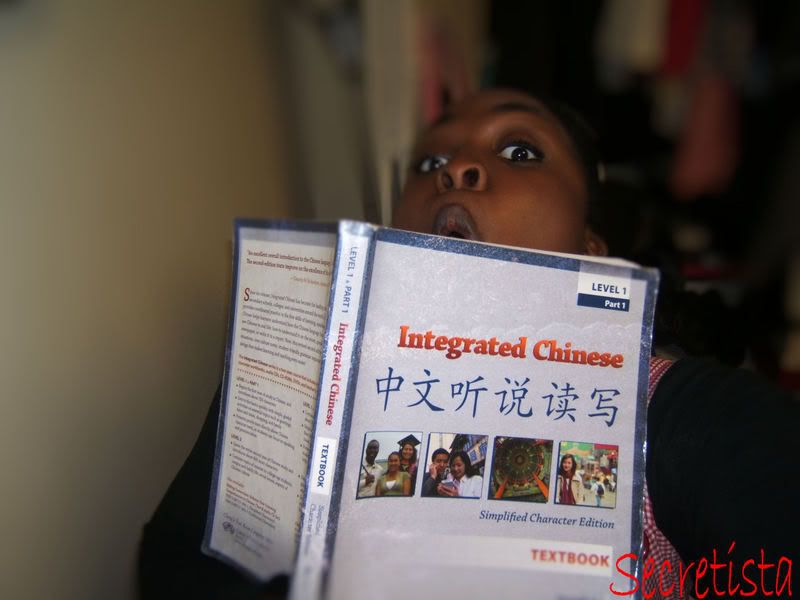 UHHHAAAHH! I'm being attacked by my book!

---
Secretista